Prominent crypto research firm Kaiko reports that the XRP token recorded impressive trade volume strides across August 2023. This development comes amidst the token poor price performance in the said month. 
XRP Dominates Altcoin Market In Trade Volume Amidst Price Downtrend
According to the latest Data Debrief by Kaiko on September 4, the market research firm notes that XRP recorded an average daily trade volume of $462.8 million in August, representing the highest value of that metric in the altcoin market. 
Solana (SOL) followed in second place, with a trade volume of $128.4 million. Other altcoins that also experienced a significant average daily trade volume in August included Binance Coin (BNB), Dogecoin (DOGE), and Litecoin (LTC), among others.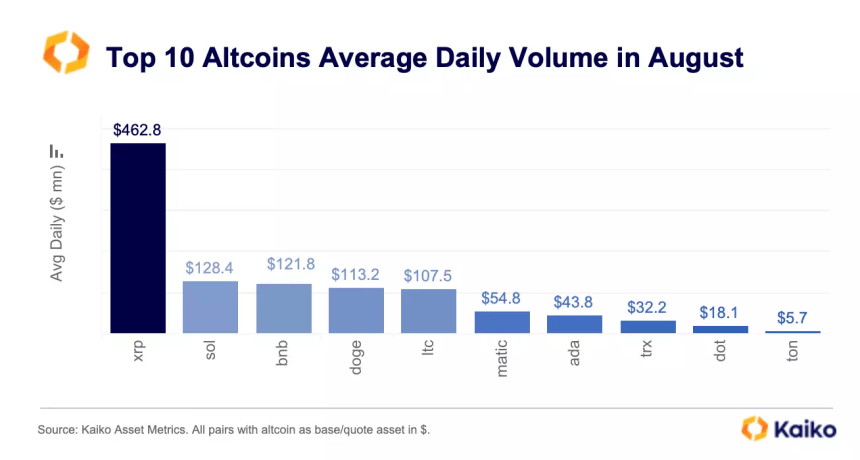 Source: Kaiko
As earlier stated, XRP's surge in trading volume was accompanied by underwhelming market performance. Kaiko notes that the altcoin experienced a 25% price decline in August.
This negative price performance was in much contrast to July, during which XRP had recorded lofty gains following Ripple's partial victory over the United States Securities and Exchange Commission (SEC).
Why Is The XRP Price Struggling? 
To explain the contrast between XRP's negative price performance and its surging trade volume, Kaiko has provided some interesting, in-depth analysis.
According to the research firm, the court ruling in July led to a large demand for XRP by US traders, as was seen in the token's price movement. Kaiko noted that the XRP average trade size on Coinbase, the largest US crypto exchange, experienced a significant boost, surpassing all top ten altcoins.
However, this massive XRP demand was only present in the US. Kaiko states there was high selling pressure on foreign exchanges, indicating that most investors sold off their tokens to capitalize on XRP's gains from its court victory. 
In particular, Kaiko reported that the South Korean exchanges Upbit and OKX recorded the strongest XRP selling pressure for August. 
Kaiko notes that the XRP's trading volume is higher on foreign markets than on US exchanges. The research firm reported:
Overall, the share of XRP traded on U.S. markets remains lower than on offshore exchanges. XRP is only the sixth most traded altcoin in the U.S. by cumulative trade volume, while it tops the list on offshore markets.
Therefore, the high demand for XRP in the US was overwhelmed by higher selling pressure on the global market, which explains why the XRP market price took a nosedive in August. 
At the time of writing, XRP trades at $0.503, having gone up by 0.17% in the last day based on data from CoinMarketCap. However, the fifth-largest cryptocurrency is still in the red zone and is down by 2.28% and 19.70% on the weekly and monthly charts. 
Source: Read Full Article