The Polygon (MATIC) price continues to fall. Even the recent positive news from Korea and the strong data from the NFT market cannot change this. Since the yearly high on February 13 at $1.56, the MATIC price has currently fallen 60% and is trading at just $0.6169.
Since the high, MATIC has been in a clear downtrend, which was last tested in mid-July. However, a breakout was not successful, both the trendline and the coinciding 200-day EMA have proven to be too strong a resistance. Now MATIC has also fallen below the 23.6% Fibonacci retracement level at $0.75.
If the support at $0.60 (in shorter time frames) now also falls, a plunge towards the yearly low at $0.50 could be imminent. However, if the level establishes itself as support in the next few days, a new attempt to break out of the downtrend could start.
For this, MATIC would currently have to rise above $0.71. However, validation of the breakout from the downtrend would have to come from the 23.6% Fibonacci retracement level. Only if MATIC rises above $0.75 the bulls might regain the upper hand. Then, the 200-day EMA at $0.84 would be the next major task that MATIC bulls have to master. Until then, MATIC seems poised for further downside.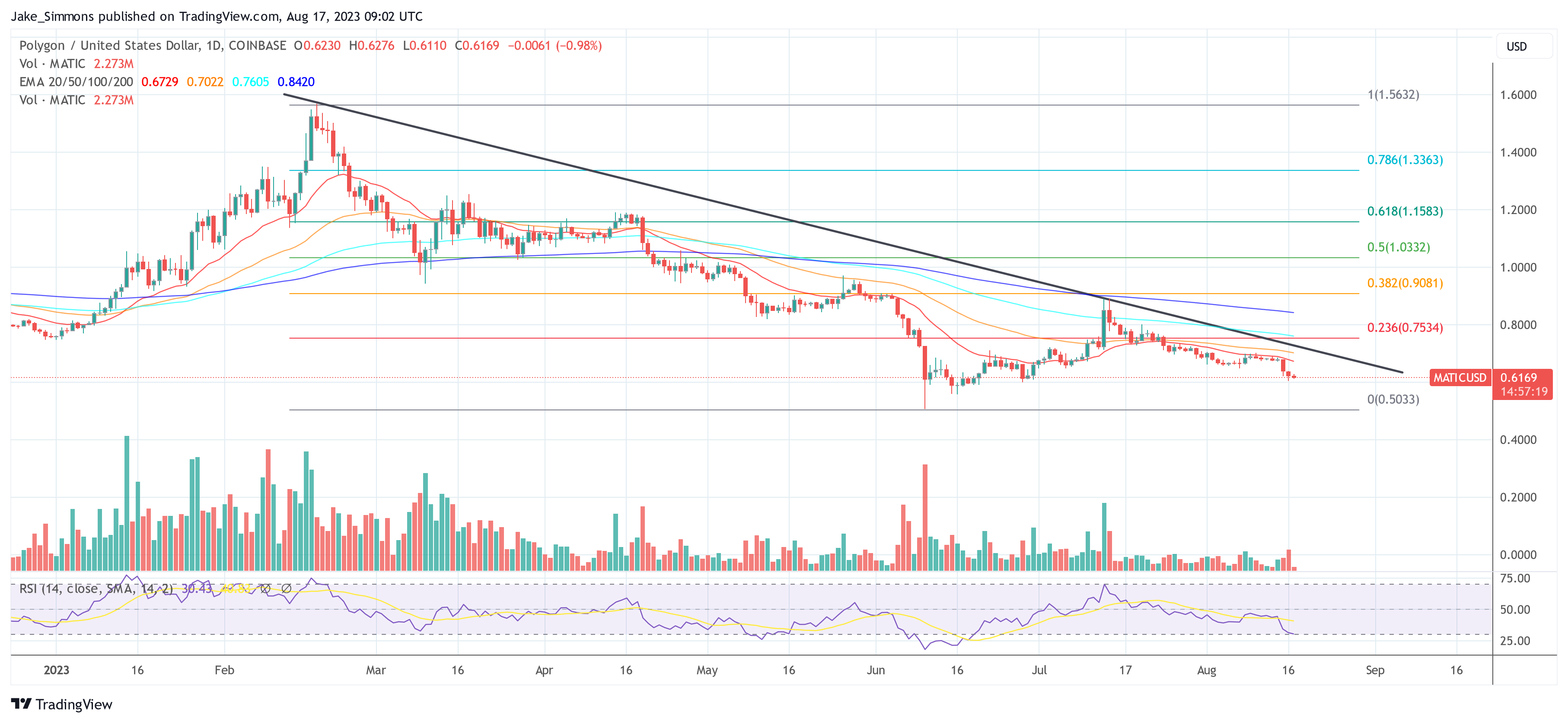 Even Positive News Can't Move Polygon Price
It is a bad omen for the MATIC bulls that even positive news cannot move the price. In the last two days Polygon has been able to report no less than two positive news. Today, Polygon Labs has inked a strategic alliance with SK Telecom (NYSE:SKM), South Korea's foremost mobile telecom operator. This collaboration is geared towards the expansion of SKT's Web3 ecosystem, positioning the telecom behemoth at the forefront of the burgeoning decentralized tech sector.
Polygon's CEO, Marc Boiron, elucidated the intent behind the partnership, stating, "Polygon Labs has been developing optimal blockchain technology for Web3 popularization, and we see this collaboration with SKT as an important step in providing Web3 experiences to more consumers."
Central to this synergy is the integration of the Polygon blockchain within SKT's NFT marketplace, TopPort, as well as its forthcoming Web3 wallet, set for launch in 2023. The wallet promises to offer users high-speed, cost-effective transactions, augmented by Ethereum's intrinsic security and decentralization features. Given the widespread utilization of Polygon-based solutions by global brands, this integration is likely to enhance SKT's Web3 offerings considerably.
Both entities will be actively scouring for promising Web3 startups to nurture and support. "By combining our experience in blockchain services and Polygon Lab's blockchain infrastructure and ecosystem, we will be able to create valuable business opportunities and boost the Web3 ecosystem," voiced Oh Se-hyun, Vice President and Head of Web3 CO at SKT.
Moreover, Polygon's NFT ecosystem clinched the second spot in traded volume over a month-long period, as highlighted by Polygon Labs founder Sandeep Nailwal. Interestingly, this surge can be attributed not just to high-value transactions but a flurry of micro-transactions, indicating Polygon's accessibility and widespread use.
By number of transactions, Polygon is 3x of Ethereum mainchain, that means there is a lot of micro transactions happening. The amount of "buyers" on Polygon also is 30% higher than the mainchain. This trend clearly solidifies Polygon's burgeoning position in the decentralized tech sector.
Source: Read Full Article