In an interesting turn of events, Bitcoin (BTC) whales made it clear to the bears last week that maximum pain is yet to come. Bitcoin (BTC)'s recent price action has led to a large number of shorts being liquidated especially in the $6000-$8000 range. This is where most bears expect BTC/USD to stop and start heading downwards but contrary to their expectations it has kept on surging. There should be no confusion that BTC/USD has not bottomed at all. In fact, the recent events have made it quite clear that this is not the bottom. This new wave of FOMO is exactly like we saw during the summer of 2014 when everyone though the price had bottomed after a series of pumps to the upside. The weekly chart shows what happened after that.
Comparing the two cycles, it is easy to see a lot of similarities and if the price has followed the 2014-15 cycle so far, there is no reason to believe that it will not do so in the future. Certainly, it may not repeat the exact same cycle and we don't expect it to, but there will be similarities. In fact, we expect the ongoing cycle to be a lot longer than the current cycle. If BTC/USD is still in the April-May part of the 2014 cycle, this means that it is going to be a long time before we see the price bottom. In fact, it may take most of 2020 for the price to bottom. The current rally in BTC/USD is largely fueled by a few big players that pump the price to suck desperate retail traders into the market. If Bitcoin (BTC) has taken this long just to reach the mid-April part of the 2014 fractal, it means that we are a long time away from the bottom.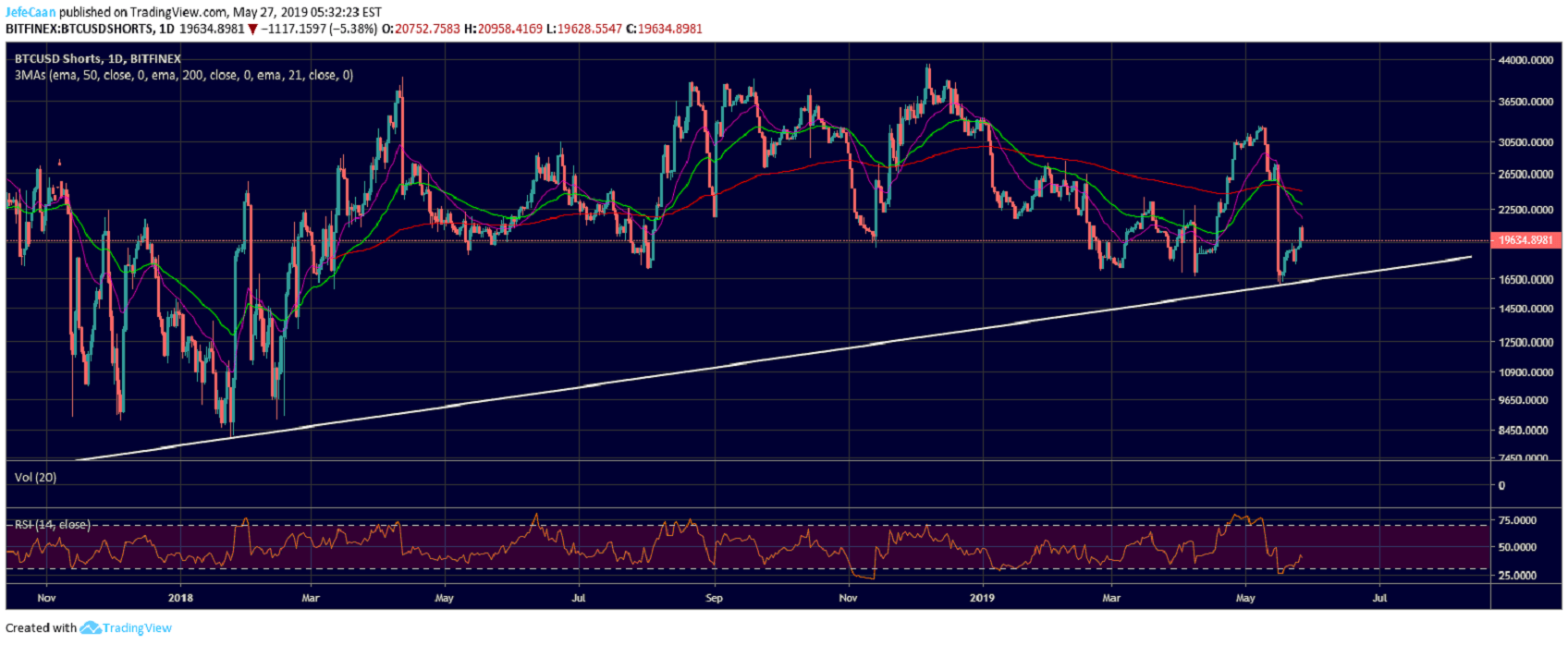 The daily chart for BTCUSDShorts shows that the bears are scared to make a move. In fact, they are going to be more scared after the recent rally and a lot of the retail bears are likely to give up anticipating a rally to $10,000 from here. It is possible for BTC/USD to rally towards $10,000 as we mentioned in our last analysis on Bitcoin (BTC) but it is not very probable at this point as it is too obvious. The more likely scenario would be a pullback to the $5000s zone which will end up liquidating some longs on the way down as their stops are hit.
When the retail bulls that entered aggressive long positions after the $6,000 breakout are liquidated all while they are expecting a rally towards $10,000 that is when we will see the price put in a temporary bottom to rally back towards $10,000 or higher levels. We expect this FOMO buying to continue for a while and BTC/USD might end up rallying as high as $13,000 during the next cycle. However, after that the price is going to have one of its deadliest declines in Bitcoin (BTC) history. That is when the market will turn from inflicting max pain on the bears to inflicting max pain on the bulls. Bitcoin (BTC) might bottom between $1,200 and $1,800 before the beginning of its next bullish cycle.
Source: Read Full Article