We will be examining some of the market opinions and historical prices for Stellar Lumens in order to compile an XLM price prediction for this June.
Stellar Overview
XLM is the native crypto of the Stellar Lumens platform and is currently ranked 13th according to a market capitalization of $1,386,517,364, with $468,121,259 worth of XLM being traded in the past 24-hour period. There are 20,249,923,124 XLM coins in circulation out of a total supply of 50,001,803,849 XLM. The current price of Stellar is $0.068470, with an increase of 3.21% in the last 24-hour period.
Stellar Lumens (XLM) Price Prediction: Analysis
XLM started May at a price of $0,067782 with positive momentum, as on May 3rd the coin was trading at $0.076.
The coin traded mostly between $0.071 and $0.074 up until May 10th, when XLM dropped below the $0.07 support level, trading at $0,061108. On May 11th, XLM traded between $0.061 – $0.065.
But on May 12, the market has started picking up, with XLM mostly trading very close to $0.07.
Stellar reached about $0.070 on May 13, and then the bullish momentum saw a breakout there before going back down to $0.068. The coin then recovered back to $0,070700 the following day, but once again fell to $0,069082.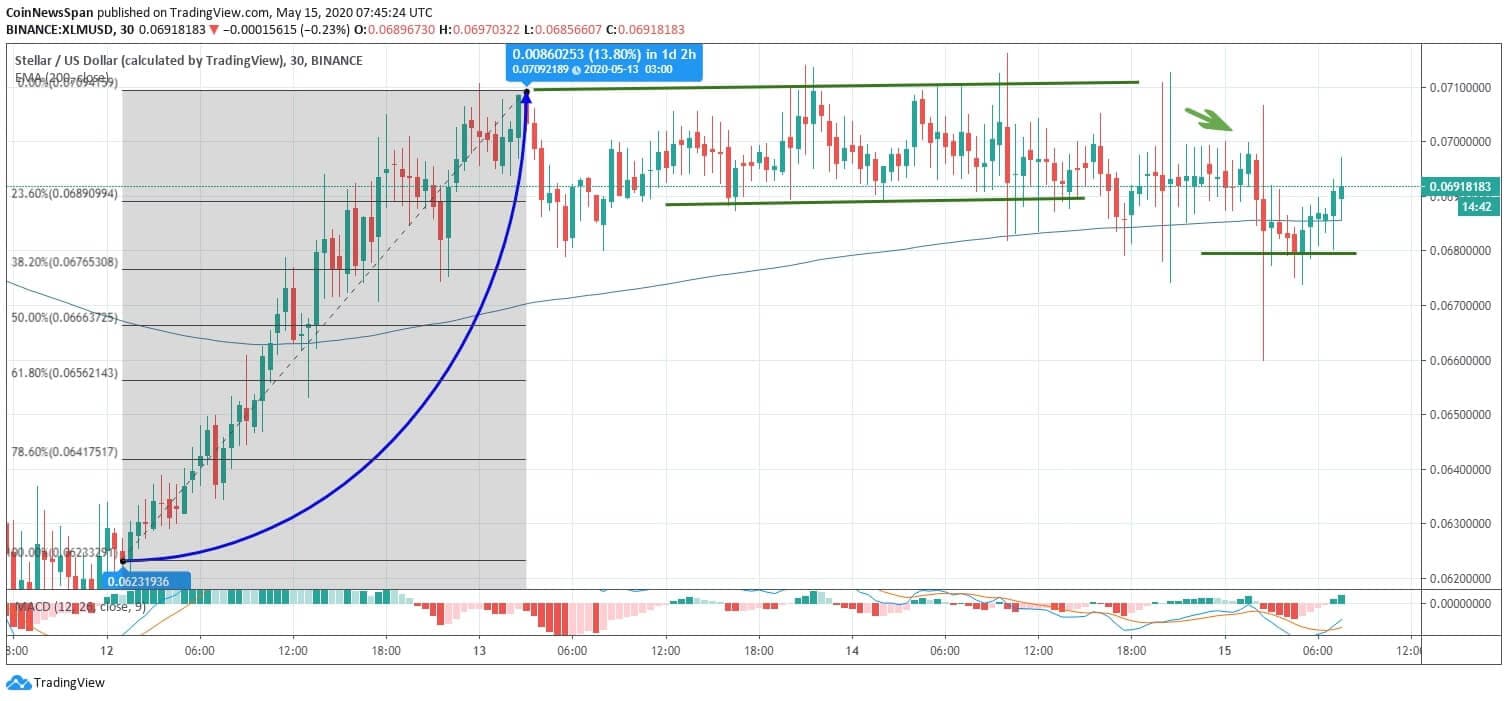 In the next two days, XLM traded below $0.07, and from May 17th, it started again its pattern of fluctuating below and back up to $0.07.
The pricing graph of May 18th showed that XLM was going through a significant bearish movement as it broke below the important resistance level of $0.070. The next day, prices went back to test $0.07, but failed to sustain any further increase and dropped back to $0,068.
The calculated pivot, resistance, and support levels by WalletInvestor are:
Resistance Level (R3): 0.0715
Resistance Level (R2): 0.07084
Resistance Level (R1): 0.07011
Pivot Point: 0.0694
Support Level (S1): 0.0687
Support Level (S2): 0.0680
Support Level (S3): 0.0672
Developments
Recently in May, Voyager Digital Canada, Ltd., a public, licensed crypto broker revealed that they would be adding support for Stellar Lumens (XLM), as well as Ripple (XRP), EOS (EOS), OmiseGo (OMG), and ZRX (0x) to generate interest on the Voyager App. The Company also stated that they plan on introducing recurring buys to the App in May.
Stellar announced that they will be investing $5million into Abra, a popular crypto wallet and exchange app for mobile users. The money will be allocated from Stellar's Stellar Development Fund.
Stellar expects this investment to promote "greater avenues of growth" for the XLM network after integrating Abra.
"This investment marks the beginning of our partnership to work together towards creating equitable access to financial services that also create new, innovative business opportunities for the Stellar network," – said Denelle Dixon (CEO and Executive Director of the Stellar Development Foundation)
"As we integrate with Stellar, we're going to be able to build the next generation of banking, leveraging the network's ability to use traditional banking infrastructure combined with the innovative opportunities of blockchain technology," – stated the CEO of Abra, Bill Barhydt.
The National Bank of Ukraine revealed that they are amidst creating a central bank digital currency (CBDC), called e-hryvnia, based on the blockchain technology of Stellar Lumens.
"The decision was made after one of the project's participants suggested to provide free-of-charge a ready-made basic solution of such a system to be used in the project on the Platform's implementation with an option to finalize that basic solution in line with the requirements that would be established at the preparation phase of the Platform's implementation," – read the financial report.
Stellar Lumens Price Prediction: Market Opinion for June 2020
As several crypto media outlets have issued their own XLM price prediction for June 2020, we will be featuring some of the most relevant ones so that you can have a general idea of the market sentiment for Stellar.
Digitalcoinprice
Digitalcoinprice's XLM price prediction for June places the coin at a trading price of $0.14188504, marking a change of 101.91%.
Previsionibitcoin
Previsionibitcoin forecasted that Stellar will have a value of $0.128557 in the month of June.
Longforecast
Longforecast expects XLM to trade at $0.069 at the start of June. The maximum price was calculated at $0.083, while the lowest value has been calculated at around $0.060. The month's average price was estimated at $0.070. The closing value for the coin was projected around $0.068, change for June -1.4%.
Gov.capital
Gov.capital's XLM price prediction for June 1st lists an average price of $0.0717, with a minimum possible price of $0.060945 and a maximum possible price of $0.082455. The site also made predictions for the rest of the days of June.
Coinpredictor
Coinpredictor's XLM price prediction for June is a price of $0.042597, with a change of -43.7%.
30rates
30rates made an XLM price prediction for each day of the month of June (without the weekends), with the average, minimum, and maximum values.
Bitverzo
Bitverzo predicted that XLM will open June at a price of $0.021798, with a minimum value of $- 0.073535 and a maximum expected value of $0.119344. The site also posted predictions for the rest of the days of June.
Tradingbeasts
Tradingbeasts forecasted that XLM will be around $0.0829753 at the start of June 2020. The month's highest anticipated price is $0.1021095, with the least anticipated price of $0.0694344. The Stellar closing price prediction for the end of the month is $0.0816876, with a change of 15.85%.
Stellar Lumens Price Prediction: Verdict
We have reached the end of our XLM price prediction for June 2020.  From what information we have gathered, it seems that Stellar Lumens is expected to further increase in price in the upcoming month. We hope that the information we have provided in this article will be of help to you in creating your own trading predictions.
Featured image: ofeed.com
Source: Read Full Article