The near-term outlook of the EUR/USD forex pair no longer supports a rally in BTC/USD. The 4H chart shows that the pair has already shown signs of extreme weakness and could print a similar fractal as it did after it last formed a double top and then declined below the 38.2% fib level. This time, it will first have to break below the 1.0772 support in order to decline further. We could see the pair see some short-term upside to stall a move much lower as the pair breaks out of the rising wedge. However, it cannot stall the inevitable for long. Now that EUR/USD seems ready to decline further, we are no longer near-term bullish on Bitcoin (BTC) and the rest of the cryptocurrency market.
There is now a strong probability of Bitcoin (BTC) crashing down to the $6k level and eventually much lower despite there already being extreme fear in the market. Both the bulls and the bears are eyeing lower levels which is something that is difficult to digest as a contrarian. That being said, in every market we have to trade based on what is not what could be. It helps to know what is going to be but that is not always as easy to know. The market can be irrational for longer than a trader can stay solvent. Therefore, there is no point in being bullish on the market just because everyone is fearful. We still need to wait for confirmation of a potential reversal before we change our mind, but for now the outlook has changed completely and the bulls have lost control.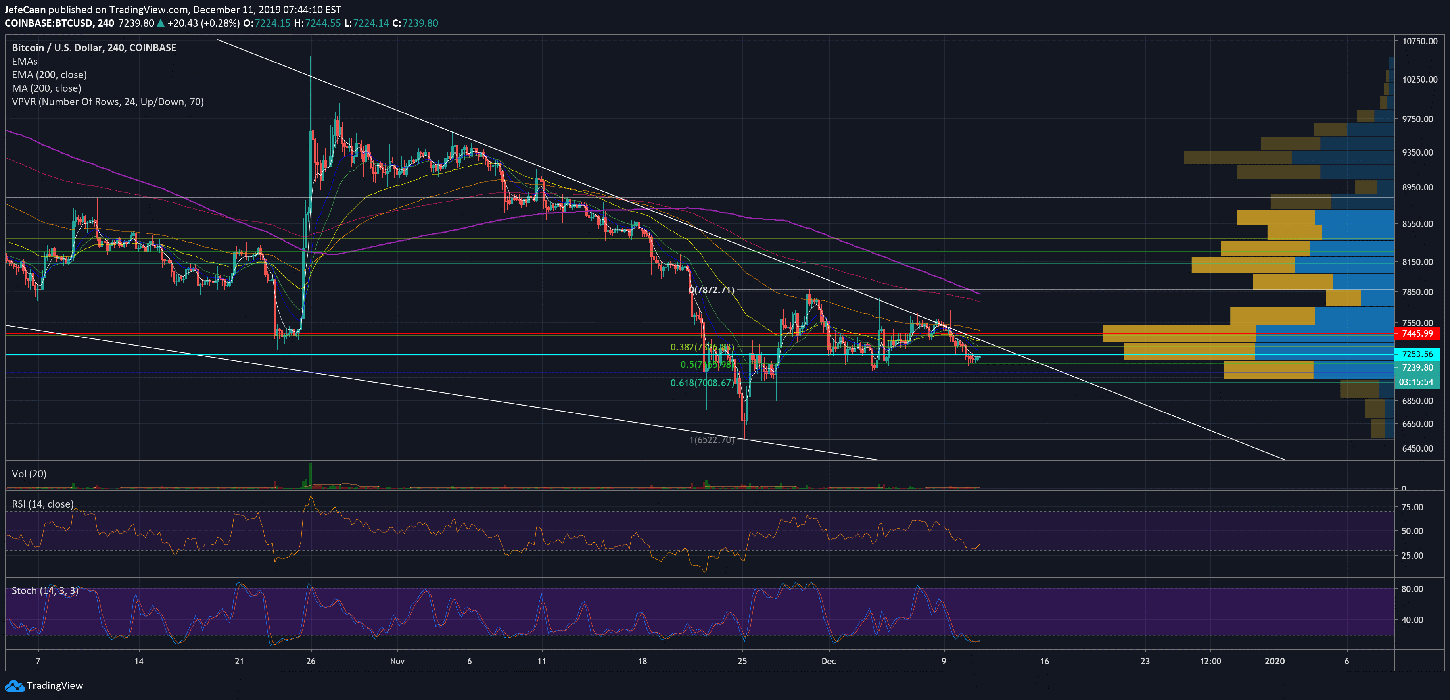 Bitcoin (BTC) is struggling to break past the $7,253 level but even if it succeeds, the $7,446 level is going to be extremely hard to breach. It is thus important to understand the risk factors considering BTC/USD is still in a bear market and the trend might be about to turn bearish near-term as well. A fall from current levels could pull BTC/USD below the previous low to the bottom of the falling wedge.
A move from the bottom of the falling wedge would likely be bullish and lead to a similar outside as we have recently seen when the price rallied more than 43% in a manner of two days. Traders might want to wait for a retest of the 200 moving average in case of a bullish move should we see a break past the $7,446 level even though the probability of that happening is quite low. Until that happens, we remain bearish on the market and expected Bitcoin (BTC) to decline down to $6k and eventually much lower.
You can share this post!
Source: Read Full Article