Enterprise blockchain platform Concordium has confirmed the successful launch of its fourth and final testnet. The Swiss-based Concordium Foundation has also announced that participants in the latest testnet will be eligible to earn a share of 15 million of the platform's GTU tokens as an incentive. The mainnet version of the platform is set to go live in the second quarter of 2020.
The fourth version of the testnet offers features that weren't available in previous iterations. Most importantly, smart contracts will be available for the first time, along with the tokenomic model that will be used on the mainnet once it launches. Concordium CTO Torben Pryds Pedersen issued a call to action for network participants, stating:
"Since this is the last iteration of our software before mainnet launch, I invite smart contract developers and Rust developers in particular to participate. The feedback they provide will prove invaluable in ensuring that Concordium realizes its potential to become a best-in-class enterprise network with strong privacy guarantees."
Anyone wanting to participate in testing will be tasked with challenges designed to put the testnet through extensive stress-testing to prepare for mainnet. Test challenges include deploying smart contracts, running a node, completing proof-of-stake validation as a "baker" on the Concordium network, and sending various types of bulk transactions to see how the platform performs with high volumes.
The Concordium Foundation is upping the stakes this time around. In the third version of the testnet, it awarded ten million native GTU tokens to 3,000 users who joined in testing. For the fourth version, it will increase this reward pool to 15 million GTU. All incentives will be distributed once the mainnet goes live.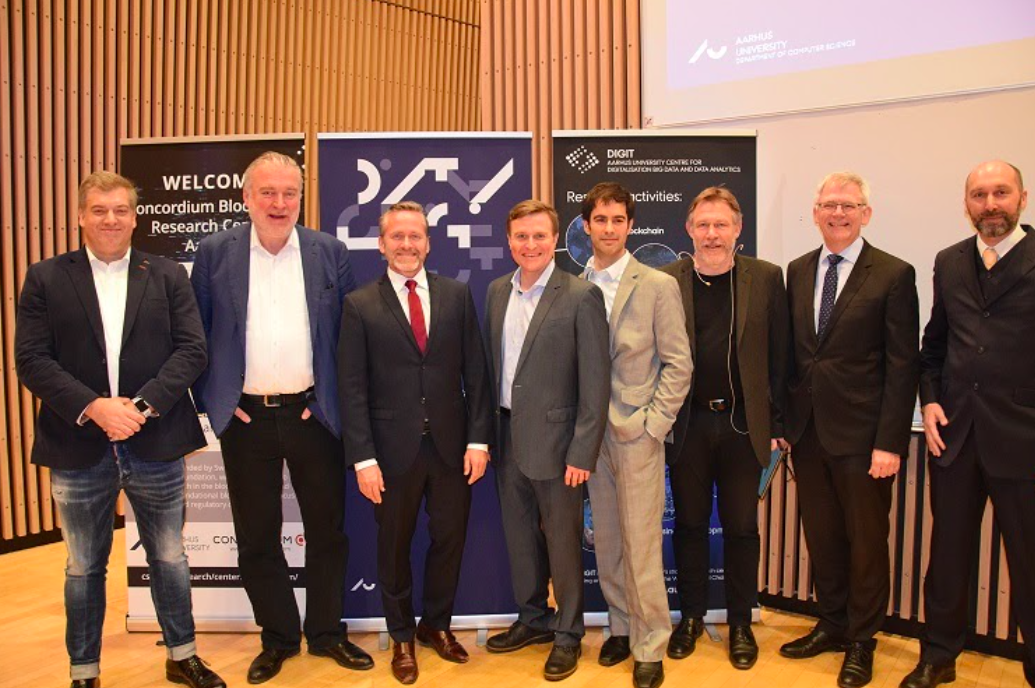 From left. Mateusz Tilewski, Lars Seier Christensen, Danish Minister for Foreign Affairs Anders Samuelsen, Center leader Jesper Buus Nielsen, Claudio Orlandi, Head of department Kaj Grønbæk, Rector Brian Bech Nielsen and Bas Spitters. Photo: Sofia Rasmussen
Optimum Conditions for Enterprise Adoption?
Concordium has been creating a buzz in the enterprise blockchain space for several reasons. Firstly, it's the only public blockchain platform that incorporates an identity layer with an off-chain verification process that uses on-chain zero-knowledge proofs. In practice, this means that users can transact with privacy thanks to the zero-knowledge proofs.
However, enterprise users can invoke a decentralized "anonymity revocation" process in the event that a legal authority issues a binding request to decloak someone's identity. In the third version of the testnet, the team reported that over 1,500 users had created an identity, using real-life documents and testing the anonymity revocation process. If it successfully gains adoption, it could mark a watershed moment for the evolution of self-sovereign digital identity based on blockchain.
The potential to gain adoption is the second reason why Concordium is creating anticipation because it boasts a stellar team of business professionals and academics on its staff. Among these are CEO Lone Fønss Schrøder, who has extensive boardroom-level experience at Volvo, IKEA, and Moller-Maersk, and Professor Ivan Damgård, co-creator of the Merkle-Damgård cryptographic hash function on which many blockchains depend.
Furthermore, whether by luck or judgment, the Concordium team appears to be timing its launch exceptionally well in light of the rejuvenated enthusiasm for enterprise blockchain. Firms including JPMorgan, Visa, PayPal, Salesforce, and others, have been making strides in blockchain adoption over the last year, meaning that rival firms will be keen to keep up in 2021 so as not to lose their competitive edge. Anyone interested in participating in the Concordium testnet can find out more on the platform's Github pages.
Disclaimer: This article is provided for informational purposes only. It is not offered or intended to be used as legal, tax, investment, financial, or other advice.
Related TAGS:
You can share this post!
Source: Read Full Article