Usually, we see the market dance to the tunes of Bitcoin (BTC) but that is not what happened recently as altcoins started to decline while Bitcoin (BTC) was still holding its ground. In fact, a comparison of the 4H chart for BTC/USD and ETH/USD would make that difference very clear. Anyway, we have yet to see a meaningful bearish breakdown in Bitcoin (BTC). So far, it is trading in a pennant and traders are of the view that this could break to the upside just as it could to the downside although the RSI points to the latter. A lot of traders are still overly bullish and believe it or not, this is the turning point where one of these two sides has to win.
If the price ends up breaking above this pennant to rise above $12,000, the bulls can claim a short term victory. However, the probability of that happening is very low because the rest of the market has already exposed what is going on. So, Bitcoin (BTC) might keep on stalling a move to the downside but it is soon to end the week and if it ends the week below $12,000, it is going to be very bearish and the price will then be expected to decline straight towards the 61.8% fib extension level from the beginning of this parabolic advance which corresponds to a price of around $7,200. Taking everything into account, there is not much hope that BTC/USD could be a lone survivor while the rest of the market tumbles. This has never happened before and there is no reason to think that it will this time.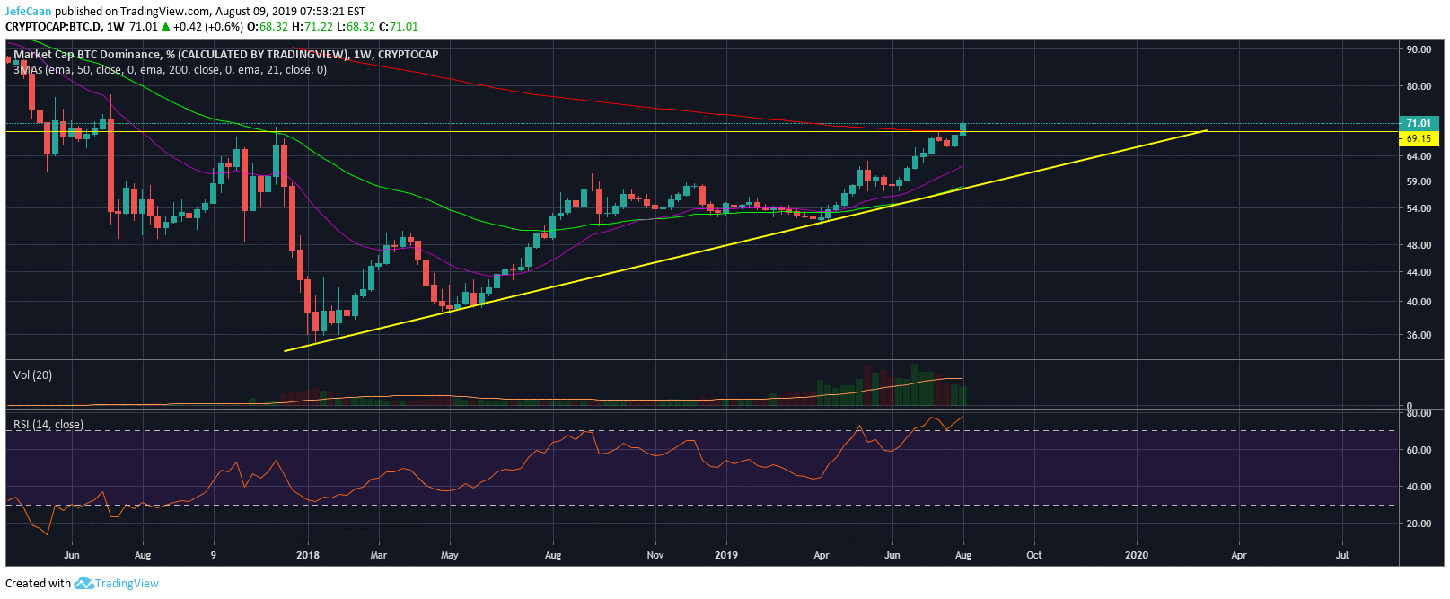 If we take a look at Bitcoin dominance (BTC.D), we can see that it has clearly broken above the ascending triangle and is now trading above the 200 Week EMA. This means that it is highly likely to begin a new bullish cycle the next week onwards. So, what does this appear to be something Bitcoin (BTC) would do if we were to enter a new bullish cycle or close to one? Absolutely not. The only reason Bitcoin dominance is rising while the rest of the market is falling is because the price of Bitcoin (BTC) is holding up better than that of most altcoins which have seen a lot of pain in the past 48 hours.
Most of these altcoins will continue to see more pain in the near future and even though most of them have already had declines of more than 90%, this time we are likely to see some of them get wiped off the market completely. It would not be surprising to see leaders of some hyped up blockchain projects quit or resign. While Bitcoin (BTC) may still have hope to eventually reach a new all-time high during the next bullish cycle, for most altcoins it is game over and they are not likely to see even their previous all-time highs during the next cycle.
You can share this post!
Source: Read Full Article