Bitcoin has undergone yet another strong rally to the upside over the past day, reaching highs of $13,850.
Analysts believe the coin will continue higher in the days and weeks ahead.
Raoul Pal, for instance, said that BTC could hit new all-time highs by Q1 of 2021 "at the latest."
This optimism was echoed by Tyler Winklevoss, co-founder of Gemini.
Bitcoin Will Pass $20k in Q1 2021, Analyst Says
Bitcoin has undergone yet another strong rally to the upside over the past day. The leading cryptocurrency currently trades for $13,700, just shy of the $13,850 highs established just hours ago.
Analysts think that the cryptocurrency is poised to rocket even higher in the weeks ahead. Raoul Pal, CEO of Real Vision and a Wall Street veteran, recently shared the chart below. It shows that BTC is about to break above a pivotal horizontal resistance at $14,000, which should trigger a move toward $20,000 and beyond in the months ahead:
"There are literally only two resistances left on the #bitcoin chart – 14,000 and then the old all-time high at 20,000. I fully expect new all-time highs by early next year at the latest."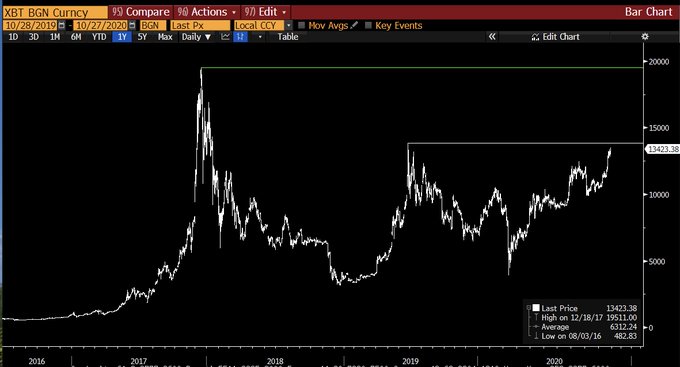 Chart of BTC's price action since the middle of 2016 with analysis by analyst and investor Raoul Pal.
Pal is a former head of hedge fund sales at Goldman Sachs. He also managed a billion-dollar hedge fund in Europe based on macro strategy. He now writes a research report called Global Macro Investor read by the world's fund managers and runs Real Vision.
Other prominent investors in the crypto space expect a strong rally in the months ahead.
Tyler Winklevoss, one of the two Winklevoss Twins that launched Gemini and are now Bitcoin billionaires, commented recently:
"I do think we will see an all-time-high price for #Bitcoin before 2020 is over. Even though the price has climbed from 10k to almost 14k in less than a month, it hasn't really gone on a breakout run yet. When we start to see 3-5k surges then the bulls will be on the run."
Why Invest in BTC?
Pal thinks it's logical to invest in Bitcoin due to the coin's increasingly strong performance against all other assets, which should drive instittuional players and retail players into the mix:
"Bitcoin's performance is SO dominant and SO all-encompassing that it is going to suck in every single asset narrative dry and spit it out. Never before in my career have I see a trade so dominant that holding any other assets makes almost no sense. The macro, flows, technology, demography and societal strains have all converged to this moment in time and the definite answer from markets is – #bitcoin."
It's worth noting that Pal says to have more than 50% of his net worth in Bitcoin, arguing that it may be the best trade of his lifetime.
Photo by pixpoetry on Unsplash
Price tags: xbtusd, btcusd, btcusdt
Charts from TradingView.com
Wall Street Veteran Raoul Pal Thinks Bitcoin Will Pass $20,000 in Q1 2021
Source: Read Full Article