Only one in four American adults have any idea what blockchain is, a new survey has revealed. The survey further found that close to two-thirds equate blockchain with digital currencies, with 48% claiming that "blockchain is the same as Bitcoin."
The "Untapped Opportunities: Games, Virtual Goods, and Blockchain" survey was conducted by Vorhaus Advisors, a digital media consulting company based in Los Angeles. It started in June 2020 and surveyed more than 2,000 U.S. adults. The purpose of the survey was to assess the level of interest in blockchain-enabled features in games.
The results indicate that while digital currencies may be growing in adoption by the day, blockchain still remains a mystery to many. Even for those who recognize the term blockchain, very few understand what it really is.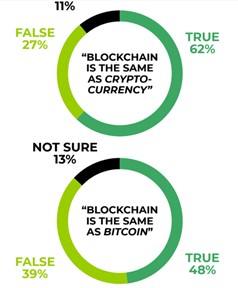 The number of those who have used blockchain products or services is even lower, standing at just 18%. In the 18-34 age bracket, this percentage is slightly higher at 25%.
There's a lot to be optimistic about in blockchain adoption in the gaming world, however. This industry has continued to grow aggressively even at a time when most economies were registering great declines. Blockchain is revolutionizing this industry, with Bitcoin SV setting itself apart as the only blockchain that's able to handle the massive amounts of data gamers generate at negligible fees.
As the report revealed, 51% of gamers want to earn income from playing games. Bitcoin SV makes this possible through the creation of tokens on the Bitcoin blockchain that the traders can trade online. This could be the next big thing as per the report, with 63% of gamers ready to play more games if the virtual good in these games had real-world value.
As Eileen Brown notes on tech news outlet ZDNet, "But blockchain enables new business opportunities for game companies, due to its ability to enable the creation of in-game digital assets and collectible one-of-a-kind items that players can own. It can also facilitate player-driven in-game services, and provides a foundation for secure, verified peer-to-peer transaction."
Eileen was one of the speakers on CoinGeek Live where she joined a panel on how content creators can make money online.
Source: Read Full Article