Bitcoin has been the best-performing macro asset of 2020.
Dan Tapiero, a prominent macro investor and a co-founder of firms like 10T Holdings and Gold Bullion Int., thinks this will continue.
He said that he can't imagine a world where "the coin doesn't outperform all other assets."
Bitcoin Could Be the Best Performing Asset Moving Forward, Says Macro Analyst
Bitcoin has surged over 60% in the past month alone. The leading cryptocurrency has rocketed from $11,200 at the lows four weeks ago to $17,700 as of this article's writing. Earlier today, BTC traded for $17,850, shocking most investors who thought the coin was going to enter a downtrend after the pump to $16,000.
This performance has made the cryptocurrency one of the best-performing assets over the past month, aside from some smaller altcoins. Technically, Bitcoin is the best-performing macro asset of the past month and of the year.
Dan Tapiero, a prominent macro investor and a co-founder of firms like 10T Holdings and Gold Bullion Int., recently said that he can't imagine a world where coin doesn't outperform all other assets.
"First time I can recall #Bitcoin included in list of macro assets by BoAML blue chip fund mgr survey. Can't imagine #btc does not outperform all other assets. Fastest horse! It's so early for btc that it is only NOW being included and that's AFTER 11yr +250% annualized perf."
This was in reference to a chart shared by the Bank of America Securities division. The chart showed that most fund managers think that emerging markets and S&P 500 will outperform in 2021, not Bitcoin, gold, or even something as "safe" as real estate.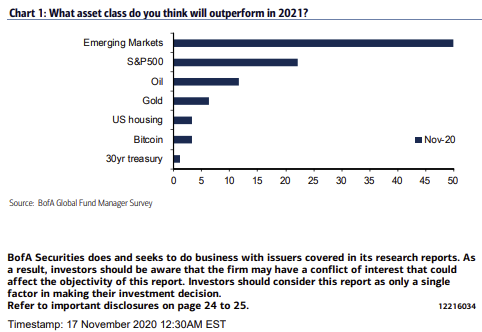 Screenshot of a Bank of America report/survey shared by Dan Tapiero, a macro analyst and the founder of 10T Holdings and DTAP Capital.
Tapiero is a prominent Bitcoin bull. He has said on a number of occasions that he thinks the cryptocurrency will hit $50,000 and beyond in this market cycle.
Macro Rally Building
Analysts see a macro rally building from a technical perspective.
Josh Rager recently stated that the cryptocurrency is on the verge of an exponential uptrend as it looks to close its monthly candle above the previous all-time high. The monthly candle has yet to close, though it likely will in the coming two weeks as it manages to hold these extremely high levels:
"Every time Bitcoin has closed above the previous monthly all-time high – a 700% to 1000% uptrend has followed. November could be the first monthly close that we see breaking the previous high and historically that's been a very bullish sign for the crypto market"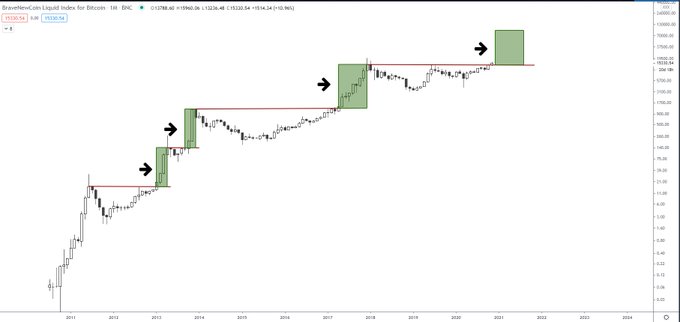 Chart of BTC's price action since the start of it trading with analysis by crypto trader Josh Rager (@Josh_Rager on Twitter).
Source: BTCUSD from TradingView.com
Bitcoin rallying even 700% from current levels would trigger a move to $100,000.
Featured Image from Shutterstock
Price tags: xbtusd, btcusd, btcusdt
Charts from TradingView.com
Macro Analyst "Can't Imagine" Bitcoin Not Outperforming All Assets
Source: Read Full Article