Bitcoin may be primed to recover further as Bitcoin's on-chain trends remain in a good spot despite the price drop.
The on-chain trends BTC is seeing now are similar to those seen prior to the rally from the $9,000s to $11,000 just weeks ago.
Bitcoin's On-Chain Trends Remain Bullish Despite Correction
Bitcoin's on-chain trends remain in a decent spot despite the correction in the cryptocurrency market that brought the coin from the $12,000 region to $10,000 and even lower at times.
Blockchain analytics firm Santiment recently shared the chart below. Dated on September 13th, the chart suggests that while Bitcoin has formed bearish divergences over the past two days in terms of its price action and on-chain activity, the past week was filled with bullish divergences.
The last time this many bullish divergences were seen, the cryptocurrency surged from the $9,000s to $11,000 and a bit further in the span of a week.
"As we've noted is often the weekend trend, $BTC's address activity calmed after a nice week of bullish divergence. One of our top leading indicators has shown encouraging long signals that our PRO users were able to ride up to $10.56k yesterday. Join us!"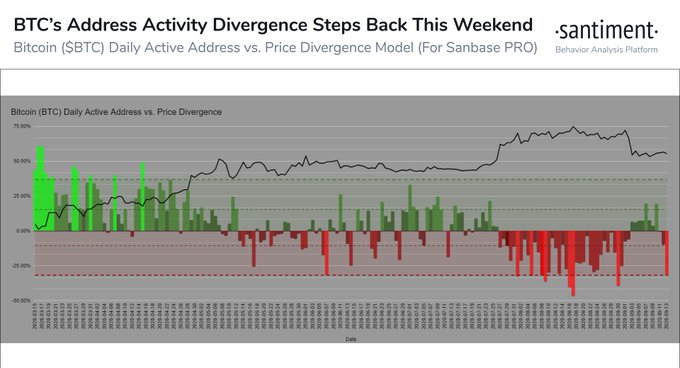 Chart of BTC's price aciton over the past few months with an active address activity analysis by crypto analytics firm Santiment.
The chart suggests that the leading cryptocurrency is still in a somewhat bullish state, with bullish divergences printed a number of days ago.
Fundamentals Indicate Upside Is Ahead
Other fundamental trends suggest that Bitcoin will continue to press higher into the end of the year and beyond.
Arthur Hayes, chief executive of BitMEX, commented in a recent blog that monetary stimulus along with political drama is likely to drive capital towards his "pocket rockets." By "pocket rockets," the former Wall Street trader and crypto executive was referring to gold and Bitcoin, which may benefit in period of inflation and political uncertainty:
"The financial markets are going to whipsaw as politicians contort themselves to continue feeding at the trough. This unfortunately will have lasting effects on everyone's lives across the globe. Out of the chaos, more people will mistrust centralised authority and look for ways to protect their physical persons and capital from the wanton destruction waged upon them by their rulers."
Also commenting on Bitcoin's likely performance in the ongoing macroeconomic environment, Mike McGlone of Bloomberg Intelligence recently commented:
"Return to Decisive Support Zone – Some overdue mean reversion in the stock market is pressuring most assets, but we expect gold and Bitcoin to come out ahead in most scenarios. Declining equity prices encourage more monetary and fiscal stimulus.."
How these trends will affect Bitcoin in the short-term, though, remains to be seen at the moment.
Featured Image from Shutterstock
Price tags: xbtusd, btcusd, btcusdt
Charts from TradingView.com
Bitcoin Forms Bullish On-Chain Trends Despite Price Correction
Source: Read Full Article