Bitcoin has risen above $40,000, twice its previous all time high, but interest remains still just half of 2017 levels going by Google trends.
In America, such interest has doubled recently, from 22 to 48 out of the 100 peak set in December 2017.
Meaning currently bitcoin is getting 48% of the attention it was receiving when price first reached $20,000.
Worldwide the picture isn't too different, although interest here is projected to reach 63% for this week.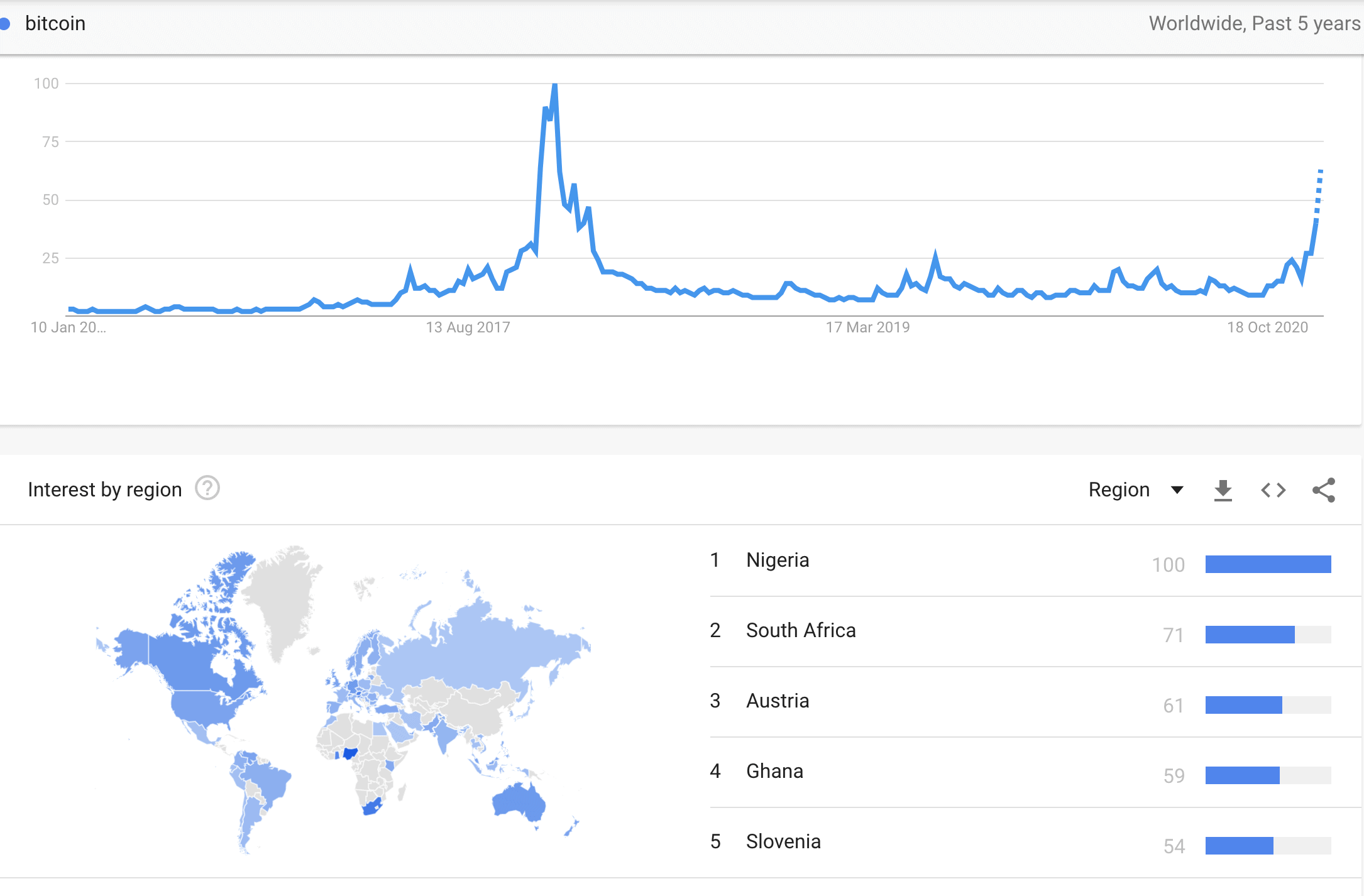 What might be more interesting in this chart is the grey areas than the blue ones. For China, they have Baidu but that region still used to be blue. Russia likewise has Yandex, however it has just about made it on the map. While the stanis region, some of them very oil rich, we suspect are not quite on the map.
That might be changing as some miners move there to take advantage of cheap electricity prices, but in general these places feel quite remote because they were isolated from the world back during soviet times.
In our times, to generalize the stanis is very difficult because although these countries end with stan, they appear to be a different though somewhat related peoples.
They're friendly to Europeans, as is everyone, and some of them like America too, while on China they appear to share global views but do seem to like Russia or are neutral.
Azerbaijan is more European than a stanis, but they share to some extent this remoteness in perception as far as we are concerned, because many Azeris and stanis have traveled to Europe and America and presumably are aware to some extent of bitcoin.
Yet we suspect it hasn't quite penetrated there as much as maybe anywhere else, less even than in Africa.
Azerbaijan and Kazakhstan are the two most important ones and very rich. Azerbaijan is set to become even richer as its gas pipeline now makes its way through Albania to wider Europe.
And thus, if other media or geopolitics does not want to integrate them, bitcoin perhaps will as this is a region with significant untapped potential.
Therefore that bitcoin searches are half the peak is maybe no wonder as that 2017 peak was created primarily by Americans who were hearing about bitcoin for the first or second time.
Since then, the bitcoin ecosystem has grown very considerably with that American level of awareness making its way globally.
As such we could well see a dwarfing of that 2017 peak, just as it saw a dwarfing of the 2013 one, with it currently not quite even half way.
Source: Read Full Article