Ripple has announced that in the framework of Blockchain Week NYC in May they are going to hold their XRP Community Night featuring a live music performance by Snoop Dogg who has already shown his interest in cryptocurrencies. The event itself is aimed at celebration of the company's hard work on developing its XRP token and ledger technology.
In their blog post Ripple team described their VIP event the following way: "As special thanks to those who are building liquidity, validating transactions, developing on the XRP Ledger, looking to xRapid as a liquidity solution and sharing the good word about XRP's many benefits, we're hosting a special night."
The event is for invited guests only but the company has taken a decision to organize two contests via Twitter, 10 winners of which will get a ticket for the upcoming special XRP Community night.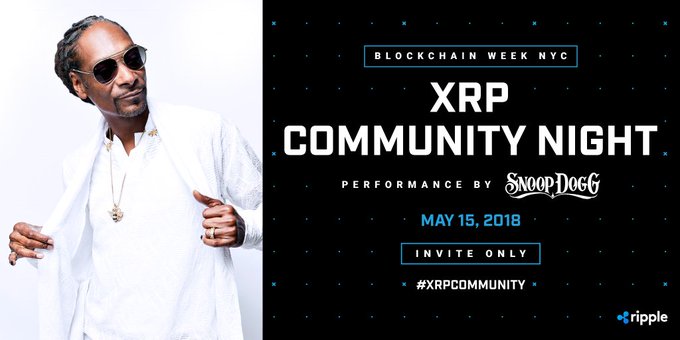 The first contest is "Twitter Trivia" and it will be held on April 26. The company will post three questions at 4 p.m. Pacific Time and the community will have one chance for answering this questions using one single tweet. Eight tickets are allocated for this contest which means that eight participants who will be the first to answer correctly all three questions in a single tweet will become winners. Their names will be publicly announced the next day.
The second contest is for more creative users. Ripple will ask its fans to "Make the Meme". On May 2, the company will share two images and prompts and those who want to participate will need to create captions for one of two images. For this task participants will have only 24 hours.
Each user will have only one chance to show his or her imagination and creativity. Only the first tweet for each image will be considered by judges. There will be two winners (one winner for each image) and each of them will be awarded with a ticket. The names of the luckiest participants will become known on May 4.
Nevertheless, recently Ripple has been mentioned not only in the context of high-scale events featuring such celebrities as Snoop Dogg. While the discussions regarding the status of Ripple's XRP cryptocurrency are still under way (though the company insists on not classifying its token as a security), Ripple is actively working on establishing partnership with banks and other financial institutions.
Just some weeks ago, it was released that Spanish banking giant Banco Santander is planning to launch its new international payment system powered by the Ripple's xCurrent distributed ledger technology. This new move will facilitate global payments for retail customers from some European nations, nevertheless, the audience is said to be expanded soon. Moreover, Ripple has recently invested $25 million of its XRP into Blockchain Capital's Parallel IV Fund for early-stage projects support.
Source: Read Full Article